Needham

High School




Class Of 1963
Sakes Alive It's 55
We graduated from Needham High School 55 years ago!!! Are you still ready to party? We hope so because our NHS Class of 1963 has reunion plans in place.
When: Saturday, October 6, 2018
Where: Center at the Heights - 300 Hillside Ave., Needham Heights
Time: 6-10 p.m.
What: Buffet dinner, cash bar, picture slide show, and lots of classmate conversations (no speeches!)
Attire: Smart casual
Cost: $50 per person
To register for our 55th Reunion, print the form listed on the left hand side of this page in the yellow column and return it by mail with a check, made out to the NHS Class of 1963, to GW Hoffmeister, 36 Highland Court, Needham, MA 02492. Please respond as soon as possible for count purposes (deadline is September 15).
Please update your class profiles. Make sure you and other classmate friends have updated emails. All reunion communication will be online (no snail mail).
We will have a photo slideshow of our Class of '63 school activity pictures and prior reunions at the 55th. If you have any pictures to share, please scan and send to Doug MacMillan: dougiemac@comcast.net.
Class contacts:
Chris Leader Hoffmeister choffmeister@comcast.net
Jean Friswell Kirkham jeank21@aol.com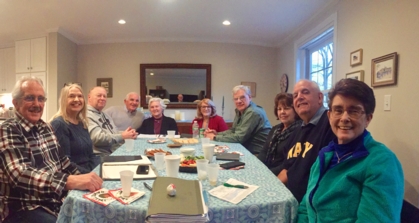 Reunion Committee: Bob Papetti, Diane Janiak Thomas, Dick Douglas, George and Chris Hoffmeister, Gay Dooley Wells, Doug MacMillan, Jean Friswell Kirkham, Roly West, Darlynn Hedrick Halliday, Tom Halliday (photographer in mirror). Other members: Marty Gaudet Remsen, Mary Ellen Peterson Stevenson, Bryan Carlson, John Ridill