Needham

High School




Class Of 1963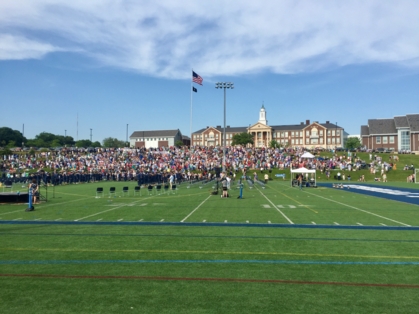 NHS graduation "on the Hill"
NHS Class of 1963 - a better 2022
In 2022 we hope you and your families are healthy and are able to comfortably see each other again. Also, we hope you are willing and able to resume many of your well loved activities outside your home.

Needham was spared too many COVID cases, but the town was still impacted in many ways. One positive aspect remains - many downtown Needham restaurants continue to have outdoor dining which adds a festive atmosphere particularly in the warmer weather.
Changes continue in our community. Downtown Needham has a brand new police and fire department on the old site by the now large Beth Israel Leahy Health complex (the former Glover Hospital). Also a new fire station was built in Needham Heights. Unfortunately, many smaller houses in town are being torn down to build much larger ones with 3 car garages and little or no yards. The streets within walking distance to downtown ( think Warren, Fair Oaks Park, Harris Ave., Nehoiden Street) are very desirable again. Needham is no longer a "dry"" town so we have several liquor stores and many restaurants with lively bar areas.
The photos from the 55th Reunion are posted on this website. Also posted is the slideshow of pictures from previous Class of '63 reunions ( the hairstyles and clothes from the 70's & 80's are very funny!). You must be signed into our website to view these photos.
We aren't promising a 60th Reunion at this point, but if the spirits and bodies are willing, we might give it another go in 2023. If you have any preferences about the format a reunion should take, please don't hesitate to share your ideas with us. Time of year? Time of day? One day or two? Sit down meal or casual reception?Do you even want to gather as a class again? In the meantime, we encourage all classmates to stay connected to our website. It will continue to be the main source of classmate information. Please notify us if you are aware of any classmate who has passed away.
We wish all of you good health and happiness over the days and year to come. In conclusion, we offer up this quote by Farrah Stockman, Boston Globe 2012:
"Your hometown is like your family. You didn't choose it, yet it shapes you indelibly. Most people spend their lives either living up to their hometown expectations or defying them. Even if you left and never looked back - never attended a single reunion - the place you grew up is still embedded in the master code of who you are."
Class contacts:
Chris Leader Hoffmeister choffmeister@comcast.net
Jean Friswell Kirkham jeank21@aol.com
Doug MacMillan dougiemac@comcast.net