Needham

High School




Class Of 1963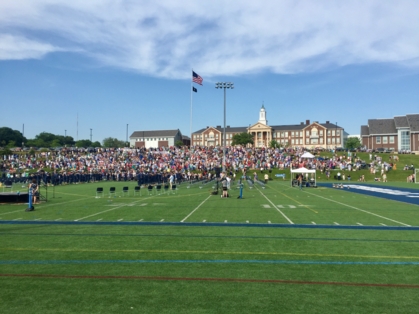 NHS graduation 2021 "on the Hill"
NHS Class of 1963 - Looking forward to a better 2022
2021, the year of Covid vaccines, has certainly been another uncertain year - particularly for those of us in a very mature age bracket! Hopefully, you and your families have remained healthy and are able to comfortably see each other again.

Needham has been spared too many COVID cases, but the town is still impacted in many ways. One positive aspect, many downtown Needham restaurants now have outdoor dining, which adds a festive atmosphere particularly in the warmer weather. Needham High School students are back in class full time, but must wear masks. All athletics have resumed - the Girls volley ball team are State champs and the Needham vs Wellesley football game was played after a year hiatus (Wellesley won 34-28 in OT).
The photos from the 55th Reunion are posted on this website. Also posted is the slideshow of pictures from previous Class of '63 reunions ( the hairstyles and clothes from the 70's & 80's are very funny!). You must be signed into our website to view these photos.
We aren't promising a 60th Reunion at this point, but if the spirits and bodies are willing, we might give it another go in 2023. In the meantime, we encourage all classmates to stay connected to our website. It will continue to be the main source of classmate information. Please notify us if you are aware of any classmate who has passed away.
We wish all of you good health and happiness over the days and year to come. In conclusion, we offer up this quote by Farrah Stockman, Boston Globe 2012:
"Your hometown is like your family. You didn't choose it, yet it shapes you indelibly. Most people spend their lives either living up to their hometown expectations or defying them. Even if you left and never looked back - never attended a single reunion - the place you grew up is still embedded in the master code of who you are."
Class contacts:
Chris Leader Hoffmeister choffmeister@comcast.net
Jean Friswell Kirkham jeank21@aol.com
Doug MacMillan dougiemac@comcast.net